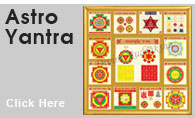 This text will be replaced by the flash music player.
Audio Multimedia (related to lalkitab astrology,gems,vastu)
Match Making
Marriage is a sacred institution which is a delicate relationship not between two individuals but between two families in the view of astrology. The question of matching horoscopes of the prospective bride and groom is an extremely sensitive one. In astrological parlance, mutual compatibility is measured with the help of points or gunas gained out of 36 for the couple which should be more than 18 to qualify for good compatibility. We have carried out extensive research work on this aspect of matching and found that it is not necessary that if there are lesser points or gunas than 18 it must be a mismatch or they will not be mutually compatible.
There are a number of subtle points to be considered based on which even horoscopes not apparently having gunas can also qualify and give excellent compatibility. Next poit to be considered is the matching of manglik dosha which we tackle with our special approach and mathemetics where many horoscopes not apparently manglik turn out to be actually manglik and many non manglik turn out to be actually manglik and hence the scenario changes completely. Then the next step is to match the possibilities of finance, property and children which is out of the scope of guna matching and manglik dosha and hence usually neglected.
PLEASE FILL IN THE DEATAILS :
Note: Rs.3300/- Per Match Making Charges, Rs.1500/- Per Kundali Charges(Indian Currency,Pay through DD/Account Deposit-ICICI A/C No: 049801503332/Net Banking) For Your Present, Future, Varshfal, Predictions & Solutions